Fun4Two Weekend Program of this Week!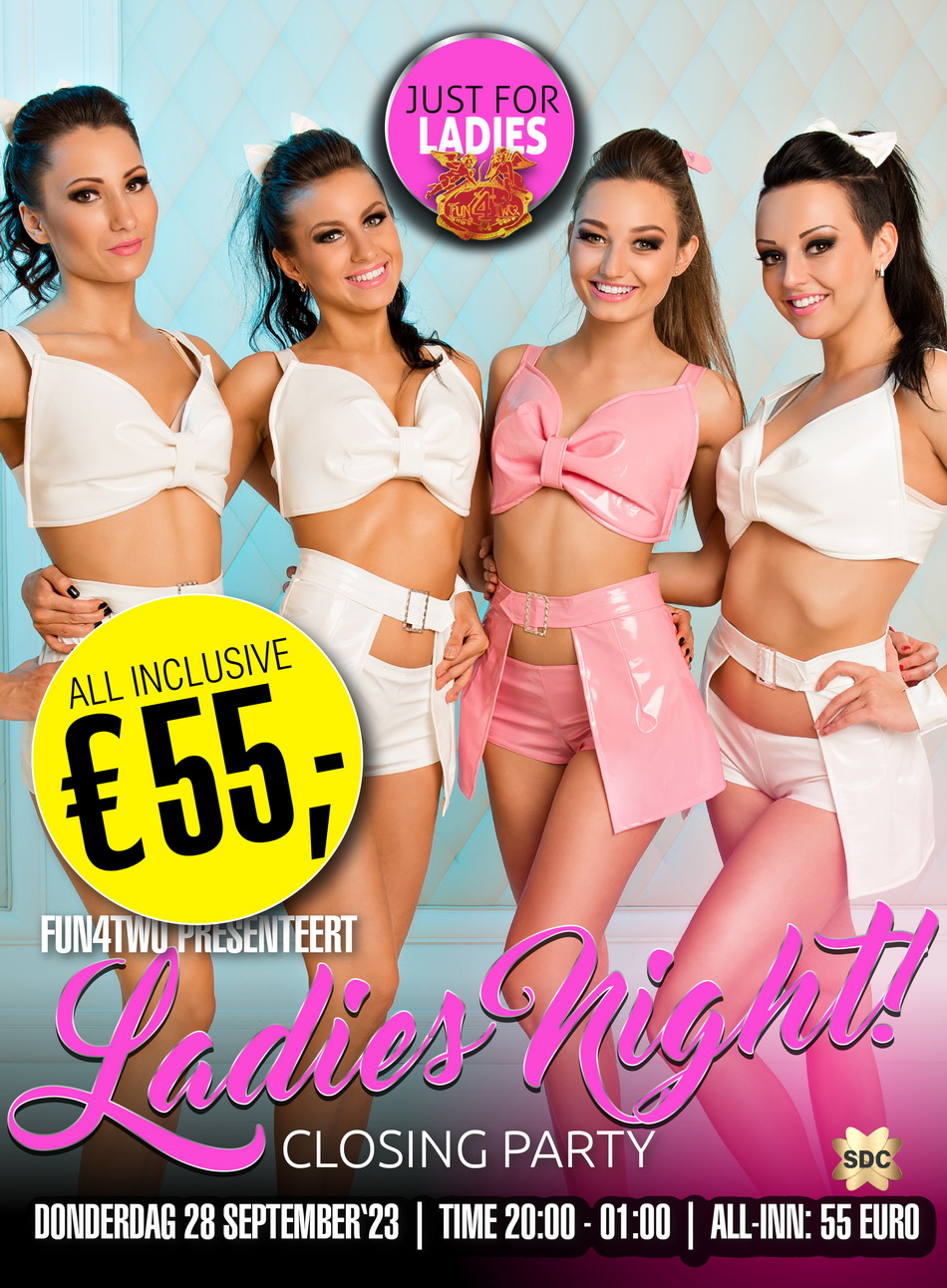 THE WEEKEND OF 28, 29, 30 SEPTEMBER & 01 OCTOBER'23
Dish of the Chef, a GREEK menu!

THURSDAY 28 SEPTEMBER '23 | LADIES NIGHT | 20:00 - 01:00
Access for Single Ladies, Girlfriends, Lesbian and Bisexual Women.

Ooooh this party is going to be so awesome!!
Already the last Ladies Night of this year!! And yes, the one and only Only Female Party in the Netherlands with only female guests, artists and staff!


No man allowed!
The Ladies Nights in Fun4Two are visited by hundreds of ladies from home and abroad. Many ladies come alone or meet up with friends and come to enjoy the atmosphere that this party entails.

For Fun4Two it is very important that every woman feels welcome and safe and can be herself on LADIES NIGHT.

Fun4Two presents itself as usual with the best atmosphere, a Surprice act, the best music from our top DJ!

It goes without saying that a girls night is also about fun, good food and a drink... teasing & pleasing and who knows what else...

So bring your own toys and go with that banana...

LETS HAVE SOME FUN
ALL INCLUSIVE: FOR 55 EUROS
NO RESERVATIONS FOR LADIES NIGHT NECESSARY!


Every first Friday of the month it's... HARDCORE NIGHT vs GIGOLINA'S!
FRIDAY 01 SEPTEMBER '23 | 21:00 - 03:00
Access for Couples, Single Men, Single Ladies & Girlfriends.

HARDCORE NIGHT vs GIGOLINA'S
HARDCORE NIGHT VS GIGOLINA'S is the most talked about and most wanted sex party in the Netherlands. It is organized by Fun4Two 4 or 5 times a year .

When there are 5 Fridays in the month, the last Friday is now HARDCORE NIGHT vs Gigolina's (S)expertNight then moves to the fourth Friday of the month.

HARDCORE NIGHT VS GIGOLINA'S EXCLUSIVE SPECIAL THIRD EDITION
is not a suitable evening for couples who do not want only men present.
We advise you to visit one of our other themed evenings.

For this evening, a maximum of 75 single men can also buy a ticket.
We would also like to ask you to read the house rules to avoid misunderstandings and to ensure that you are fully informed.
As you may know, all previous editions of this event were sold out way in advance! This also meant that we had to disappoint many gentlemen, couples and ladies.
As was already announced at the opening edition, due to the enormous interest, we will work with ticket sales, just like with our Exclusive theme parties.
THE DRESS CODE IS ALREADY ON THE ENTRY!
The dress code is beautiful lingerie for the ladies. For men, a nice boxer with possibly a T-shirt applies and
we advise you to wear slippers
on your feet.
Towels, swimsuits, casual wear such as lingerie are not allowed.
Stamp cards are not valid at this theme party!
SATURDAY 30 SEPTEMBER '23 | 21:00 - 04:00
Access for Couples, Single Ladies & Girlfriends.

The last Saturday of September means a club full of beautiful people, and yes, you will only find them in the most beautiful and coziest Swingers club in the Netherlands!

A super relaxed atmosphere, good food & drinks, great dancing & dancing to the great music, enjoy our wellness such as sauna, whirlpool and Tantra temple. But what about sex with gorgeous people?
This and much more, all under one roof in the most beautiful sex farm in the country.

Make a reservation wisely!

Many have preceded you. Many have already visited the Fun several times for free. Ask for a saving card and you will soon be among those many….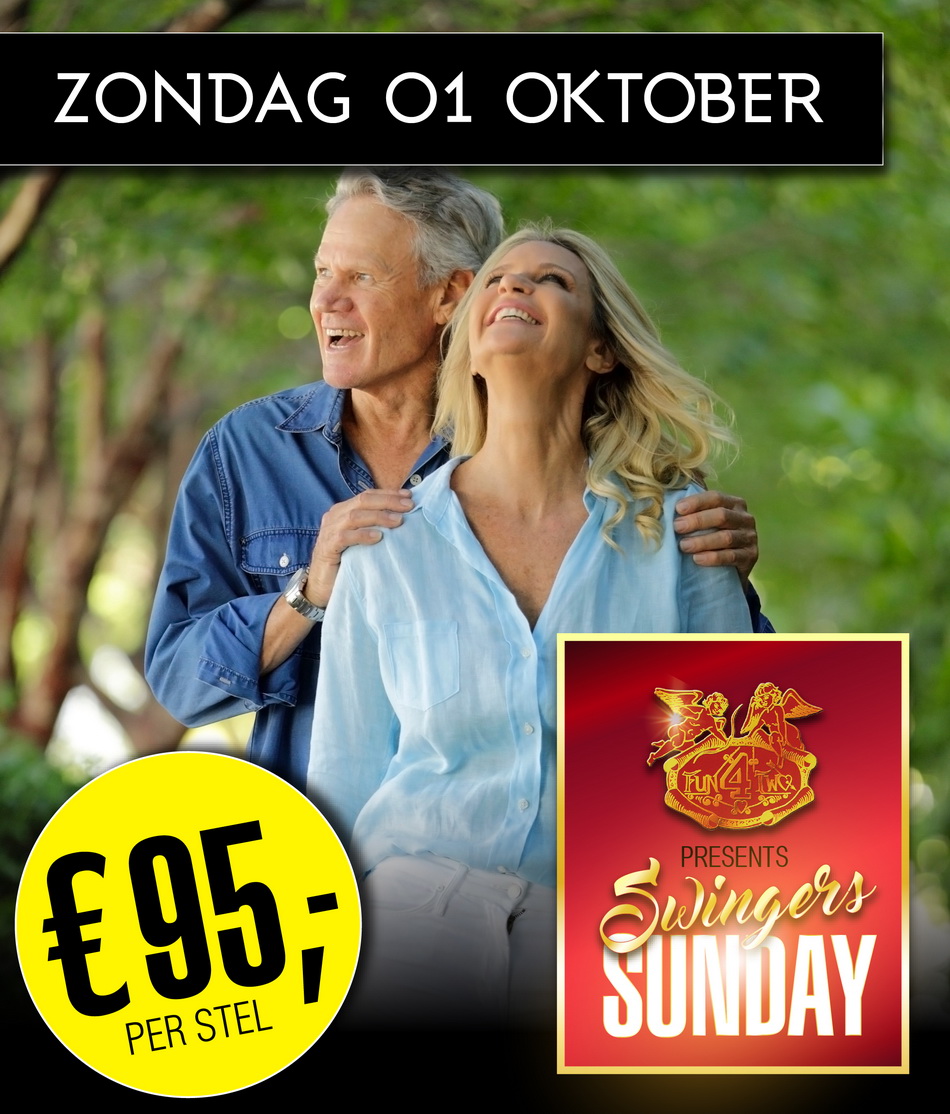 SUNDAY 27 AUGUST '23 SWINGERS SUNDAY | 16:00 - 23:00
Access for Couples & Single Ladies.
All Inclusive! Discover the atmosphere and the beginning of new memories.
A fantastic evening for couples aged 30 - 75! Because where in the Netherlands can you still enjoy a fantastic Sunday!!!

Enjoying the two of us, with of course delicious food in our restaurant, all the drinks on the house, nice people around you, dancing & dancing, relaxing, or enjoying our wonderful wellness! A Tantra massage temple and the many erotic spaces where you can have wonderful sex with your partner or with others. SWINGERS SUNDAY in Fun4Two guarantees a top eveningout for a price that makes you say uh. For our new members immediately upon arrival a discount of € 20, -
Of course in the nicest "most beautiful" and coziest Swingers club in the Netherlands Fun4Two!
It's just a fact that you won't have such a good time anywhere on a Sunday in the Netherlands. And then also for a bargain price.

01) Fixed entrance price of € 95 per couple All inclusive.
02) No registration fee of 20 euros for new members.
03) A fun swingers evening for like-minded people.
04) Dress code lingerie at 7:00 PM.
05) Nice teasing & pleasing
06) Unlimited food in our Top restaurant.
07) All the drinks on the house.
08) Top music from our DJ .
09) Enjoy our beautiful wellness such as Sauna - Turkish steam bath - Whirlpool Tantra temple and much more...
10) On the last Sunday afternoon / evening of the month you can also enjoy our house singer Desiree.
11) Just anything, all night long(7 hours Funnen) 4:00 pm - 11:00 pm. Oh yes... You read it right... per couple!! *

*Attention! Not valid on public holidays, pool parties & garden parties!
It's free… ask for your stamp card. Stamp, stamp, stamp…